get elephant's newsletter
Some vital words from Quentin Tarantino, just today, whose career was made possible in many ways by Harvey Weinstein: "I'm calling on the other guys who knew more to not be scared. Don't just give out statements. Acknowledge that there was something rotten in Denmark. Vow to do better by our sisters."Read the full here.

Breaking: more sad proof this isn't about Men assaulting Women, this is about abuse of Power.
Gay men like to be with adult men who also like men. Gay men do not abuse children, predators do. Gay men are not predators. Fuck Spacey.
Nope to Kevin Spacey's statement. Nope. There's no amount of drunk or closeted that excuses or explains away assaulting a 14-year-old child.
Lupita Nyong'o comes forward. Harvey: "Let's cut to the chase. I have a private room upstairs where we can have the rest of our meal." I was stunned. I told him I preferred to eat in the restaurant. He told me not to be so naïve. If I wanted to be an actress, then I had to be willing to do this sort of thing. He said he had dated Famous Actress X and Y and look where that had gotten them.

I was silent for a while before I mustered up the courage to politely decline his offer. "You have no idea what you are passing up," he said. "With all due respect, I would not be able to sleep at night if I did what you are asking, so I must pass," I replied.

His whole demeanor changed at that point. "Then I guess we are two ships passing in the night." I had never heard that saying before, so I remember asking him what it meant. "It means just that," he said. "We are two ships going in two different directions."
"Headey, who stars as Cersei Lannister on the HBO fantasy saga, is now one of more than 40 women to come forward and accuse Weinstein of sexual harassment or assault since the New York Times first broke the story of decades of alleged abuse at the hands of the Hollywood producer Oct. 5. Many of the accounts detail similar hotel room incidents."

During the meeting, she says she and Weinstein talked about films, but that he also asked her questions about her love life. When he returned from the bathroom, she says he said, "Let's go up to the room, I want to give you a script." She says that as they walked to the elevator, "the energy shifted" and her "whole body went into high alert."

"The lift was going up and I said to Harvey, 'I'm not interested in anything other than work, please don't think I got in here with you for any other reason, nothing is going to happen,'" she recalled, explaining, "I don't know what possessed me to speak out at that moment, only that I had such a strong sense of don't come near me."

She says his response was silence and that he was "furious."

She continues, "We got out of the lift and walked to his room. His hand was on my back, he was marching me forward, not a word. I felt completely powerless, he tried his key card and it didn't work, then he got really angry. He walked me back to the lift, through the hotel to the valet, by grabbing and holding tightly to the back of my arm, he paid for my car and whispered in my ear, 'Don't tell anyone about this, not your manager, not your agent.'"

What a moment of suspense when that key card failed.
If you've ever thought sexual assault or rape was okay, or funny, or something to get away with, I challenge you to look at the "me too" thread on facebook.com/elephantjournal and not cry, and feel remorse, and help us all to awaken this world we've created. Become a part of the solution today forward.
This happens to men and women, both. it's about power, and accountability. Let's shift the power, and awaken the accountability: LINK to https://www.elephantjournal.com/2017/10/major-hollywood-figure-accused-of-sexual-assault-in-ny-times/
Yours in Enlighened Society,
Waylon H. Lewis/Editor-in-Chief
Look at Kate Beckinsale's public statement.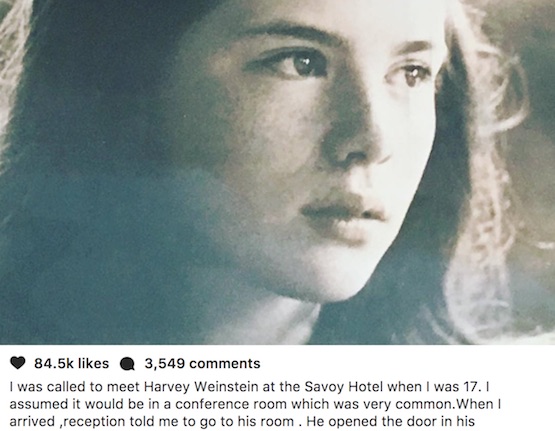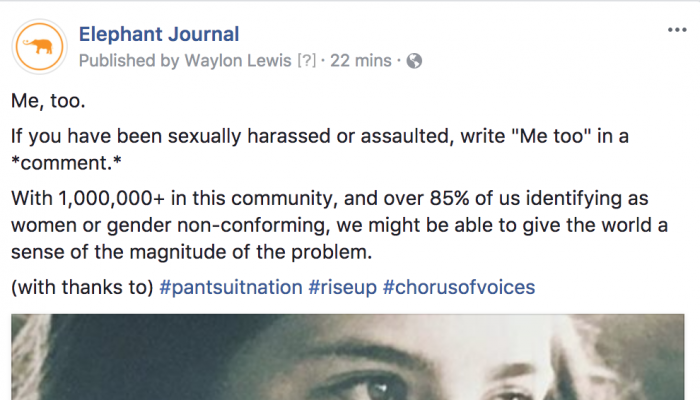 Update: Unedited, Kate Beckinsale's shocking statement on Harvey. Or maybe it's not shocking. Still, I found this…bracing.
Read just the first three lines if you want to feel holy fury. Let's root 'em all out.
 Kate Beckinsale's public statement.
She mentions a "male friend" who just warned a "young actress" about Weinstein. And for that, he was rewarded by being blacklisted from Miramax after that actress ratted him out to Weinstein. I mean, WTF? ~ Redditor
"A few years later he asked me if he had tried anything with me in that first meeting [when she was 17 and had school in the morning]. I realized he couldn't remember if he had assaulted me or no."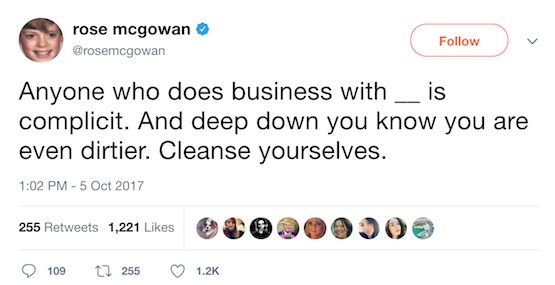 "Yeah Rose just tweeted this not naming him."
~
It's been talked about as a known thing (Ashley Judd was one of the first brave voices about his sexual assaults) for a long time, but always secretly—he's powerful. Finally, thanks to journalism, he's outed:
An investigation by The New York Times found previously undisclosed allegations against Mr. Weinstein stretching over nearly three decades, documented through interviews with current and former employees and film industry workers, as well as legal records, emails and internal documents from the businesses he has run, Miramax and the Weinstein Company.

During that time, after being confronted with allegations including sexual harassment and unwanted physical contact, Mr. Weinstein has reached at least eight settlements with women, according to two company officials speaking on the condition of anonymity. Among the recipients, The Times found, were a young assistant in New York in 1990, an actress in 1997, an assistant in London in 1998, an Italian model in 2015 and Ms. O'Connor shortly after, according to records and those familiar with the agreements.

At Fox News, where the conservative icons Roger E. Ailes and Bill O'Reilly were accused of harassment, women have received payouts well into the millions of dollars. But most of the women involved in the Weinstein agreements collected between roughly $80,000 and $150,000, according to people familiar with the negotiations.

Ms. Bloom, who has been advising Mr. Weinstein over the last year on gender and power dynamics, called him "an old dinosaur learning new ways." She said she had "explained to him that due to the power difference between a major studio head like him and most others in the industry, whatever his motives, some of his words and behaviors can be perceived as inappropriate, even intimidating."

In a statement to The Times on Thursday afternoon, Mr. Weinstein said: "I appreciate the way I've behaved with colleagues in the past has caused a lot of pain, and I sincerely apologize for it. Though I'm trying to do better, I know I have a long way to go." He added that he was working with therapists and planning to take a leave of absence to "deal with this issue head on."

Reddit: "Gretchen Mol, Jennifer Lawrence, Gwynneth Paltrow, Blake Lively. Whenever a beautiful blond girl starts appearing on all the magazines as the 'it' girl, it's one of Harvey's girls. They tend to wear his wife's creations too which is weird. He just pushes them hard on all the public media, and people won't go against Harvey. Though some of them 'hit' and some of them don't…" and "…his official statement is gross and bizarre. Quoting Jay-Z randomly and trying to deflect to the NRA because how topical that issue is at the moment."
This is just the beginning—his non-apology apology will only make things worse (and he's threatening to sue the NY Times, simultaneously). Slander is a serious thing—but there appears to be plenty of sources on this one.
"She tweeted earlier today that powerful Hollywood talent agency CAA "eternally banned" her for speaking out against Weinstein, an outcome that sheds a little more light on why so many famous men and women may have let his open secret stay secret for so long."
This is how an apology is done. Selflessly, heartfelt, owning it, using as a teaching moment, not defending.
Don't be a jerk, find love not just sex: